K&G Wetter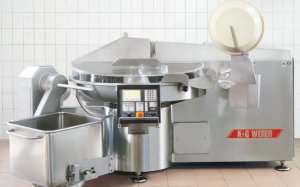 K & G Wetter Germany.
Particle reduction and mixing equipment.
Bowl cutters for butcher trade to industry.
Grinders and mincers.
Mixing systems for meat and salami preparation.
Metalquimia
Metalquimia. Leaders in injection and cured meat preparation.
Brine preparation and mixing equipment.
Injectors for meat & poultry.
Injectors for marinades and moisture infusion.
Maceration and massaging equipment.
Full automation and industrial turn key systems.
Pujolas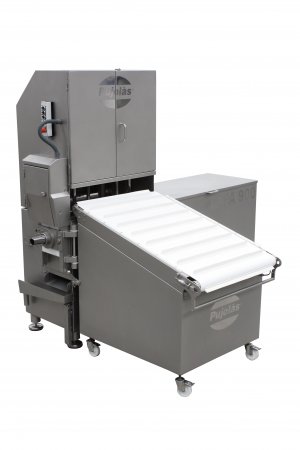 Pujolas meat pressing and processing equipment
Full muscle stuffers manual to fully automatic.
Meat shaping and pressing systems to maximise slicing yields.
Full range of preparation equipment for dry cured meat products.
Material handling aids and equipment.
Record
Record
A complete range of horizontal flow wrapping machines for flexible packaging for smallgoods, fresh meat, vegetables, and other food and non-food applications
The machines operate with flexible film reels in various wrapping materials on continuous cycle, taking the plastic film from a reel, sealing it all around the product.
The machines are suitable for every kind of industry, for small, medium and high productions.
Sorgo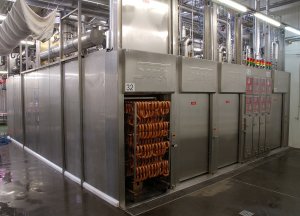 Sorgo Thermal processing.
Hot and cold smoke or steam chambers. Single trolley to large industrial applications.
Climatic fermentation and maturing rooms.
Intensive cooling chambers.
Manual or full automation.
Talsa
Tippertie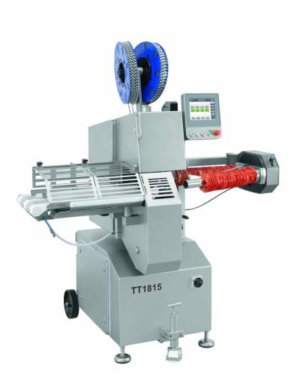 Tipper Tie
TIPPER TIE is a worldwide supplier of processing and clip packaging machines. Our product range includes fine cutters for emulsified products and a complete line of clippers from tabletop models to fully automated, high speed systems that seal, clip, net, bag and hang a wide variety of products. We have a long history in the food processing industry – especially meat and poultry. Outside of the food industry, TIPPER TIE is a trusted partner to manufacturers of packaged explosives, adhesives, sealants and other industrial products.